Nitrous Oxide Plant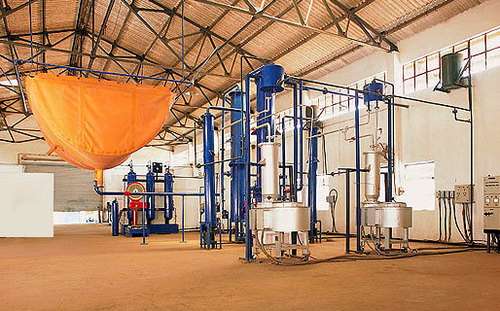 Nitrous Oxide Plant
Price And Quantity
Product Specifications
Product Description
New Kanak Cryo Sales Service & Consultancy offers economical and safe Nitrous Oxide Plant. This plant is engineered under stringent supervision of vastly experienced engineers. The NKCS Nitrous Oxide (aka Laughing Gas) Plant is loaded with highly efficient Generation System that helps in ensuring less power consumption as well as adds to its safety. Another important safety feature for our plant is the storage battery assembly for separating Nitrogen. The gas produced by the plant is in conformation to the Indian Pharmacopeia, U.S. and European Standards. After production, gas is directly filled into the cylinders in liquid state.
Process Description:
The Nitrous Oxide Gas is produced by heating Ammonium Nitrate up to 250 Degree Celsius. During the process, Ammonium Nitrate is decomposed in order to obtain a mix of Nitrous Oxide and extremely heated steam. At the same time, varied impurities like ammonium nitrate fumes, nitrogen and other oxides of nitrogen are produced. These impurities and generated steam are then removed through scrubbing with water followed by caustic soda & sulphuric acid. The Nitrogen traces are then eliminated by bleeding from top of the storage vessels, where Nitrous Oxide is stocked in compressed form.
Production:
Heating of Ammonium Nitrate (to a temperature of approx. 250C) to produce Nitrous Oxide can be done either electrically or by gas. Afterward, the gas is purified in a series of towers and then gets collected in the gas holder. It is then compressed by using water lubricated compressor, and further dried & liquefied. Liquid form of Nitrous Oxide is then stored in storage vessels in the absence of Nitrogen. Lastly, pure liquid Nitrogen Oxide is filled into the cylinders by weight.
Note: Available capacities 8, 16 and 24 cu.m/hr. (1kg 0.533cu.m)
Special Features of NKCS Nitrous Oxide Plant:
Electrically heated pots combined with temperature controllers
Equipment safety systems
Regeneration facility
Purification system to remove impurities
Plant Requirements:
Electric power - 100 HP (Max.)
Raw material - Ammonium nitrate
Good quality of water
Cooling water system
Sufficiently ventilated plant
Properties of Nitrous Oxide:
Nitrous Oxide is the chemical compound of Nitrogen & Oxygen, and is chemical symbol is N2O.
Non flammable, colorless and non-toxic in nature with a slight sweet taste and odour.
The most common & easy way to distribute N2O is through cylinders in the compressed liquid state.
Pressure in the cylinders containing Nitrous Oxide is approximately 50 Bars at 20C.
It is a stable & comparatively non-reactive chemical compound at ordinary temperature level. However, at high temperatures, this gas decomposes to Nitrogen and Oxygen.
It encourages combustion, thus organic substances particularly oil/ greases (petrochemicals) should be kept away.
Uses:
Nitrous Oxide gas is majorly useful for anaesthetic purpose, when administered with oxygen.
It is used as a carrier gas in laboratory instruments.
N2O also finds usage as a propellant in aerosols & food stuff.
Specifications
Capacities
8 M3 / Hr
16 M3/Hr
24 M3/Hr
Start-up time
7 Hrs
8 Hrs
8 Hrs

Ammonium Nitrate Consumption per M3 of Gas produced

(Subject to Quality)

4.0 kgs Max.
4.0 kgs Max.
4.0 kgs Max.
Water required for processing
290 ltrs
575 ltrs
850 ltrs
Water required for cooling
650 ltrs
725 ltrs
750 ltrs
Trade Information
Cheque, Cash in Advance (CID), Cash Advance (CA)

1 Per Month
Contact Us
Plot No. 307, GIDC, Phase-II, Sihor, Bhavnagar, Gujarat, 364240, India
Phone :+918045478296