Molecular Sieve Battery Setup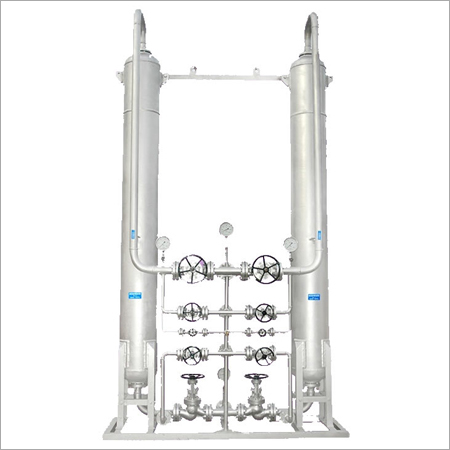 Molecular Sieve Battery Setup
Product Description
NKCS Molecular Sieve Battery Setup comprises 2 M.S. vessels that are inter-connected with the pipeline of Nitrogen and Air. Each of the vessel of the batter is infused with molecular sieve of 1.5/ 3 mm type 13-X. This, further aids in the removal of carbon dioxide, moisture, any traces of Acetylene & other hydrocarbons existing in the process air. The NKCS Molecular Sieve Battery Setup is also equipped with a heater for regeneration, control panel with automated controls and temperature sensor. In case, the battery does not function properly moisture and CO2 will enter Air Separation Column, and form ice/ dry ice resulting in choking of heat exchanger tubes as well as other equipment eventually leading to stoppage of the Plant.
Spares Requirement:
Some important spare parts needed for efficient functioning of the Molecular Sieve Battery are:
Air inlet and outlet valves
Molecular sieve & activated alumina
Terminals for battery heater
Nitrogen inlet and outlet valves
Electric heating element
Needle valves for pressurizing & de-pressurizing lines
Temperature gauges along with capillary tube & mercury stem.
Contact Us
Plot No. 307, GIDC, Phase-II, Sihor, Bhavnagar, Gujarat, 364240, India
Phone :+918045478296